This is something I've been encountering a lot lately and I decided it was time to put together the list of stuff a video beginner needs to know for even the simplest of simple videos – the client testimonial video.
Client testimonial videos are about the easiest kinds of productions to pull off and they're one of the first things I recommend considering as a company begins making their foray into this type of media. It's a type of video that can be easily standardized and contains some of the most valuable stories a company could POSSIBLY share–the stories of people who bought your stuff and thought is was great!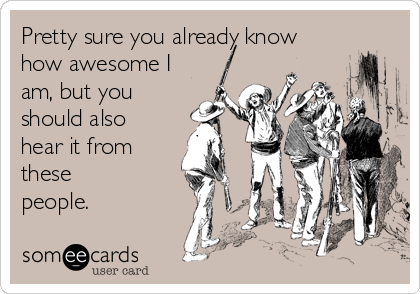 With smartphones, tablets and other portable cameras, even a non-pro can film their own testimonial videos that can be high impact but you do have to think about some stuff ahead of time before just rolling up on your client with your video camera and telling them to expound your virtues!
Here we go:
Pre Production (Ahead of filming):
Decide if it's a good idea or not. Do you have a client totally stoked out on your amazingness or is that something you should aspire to, first? Your best bet is definitely to ask the folks that you know shared a great experience with you and that aren't afraid to say so!
Give them some notice. If you DO have a client with whom you share an adoring bond and would like to film, ask them ahead of time if they would be willing and if so, then set a date. And remind them the day before that date. And maybe even again the same day. I like to remind people about stuff a lot.
Plan for the day of.  When will this shoot be? Before a meeting? After a meeting? In what location? What is the lighting/sound situation there? What kind of device will you use to record? Mind your LASS!
Production (The day of filming):
Get your gear. Decide what you are using to record – a smartphone, tablet or actual camera? – and make sure you have some kind of tripod or stabilizer so you're not holding your device awkwardly and shakily in front of you as you film your subjects.
Get close. If you don't have any add-on microphones and are just relying on your device to get the job done, then get as close as you can to your subject without being too creepy. The microphones built into most video-capable devices aren't very powerful and you don't want to end up doing crazy audio engineering gymnastics in order to fix audio that's too quiet! If you're not sure how the audio is on your device test it on yourself or someone else a few times BEFORE you commit to recording your testimonial.
Keep it casual. Video can still be kind of awkward for a lot of people so remember that when getting a testimonial video you're also playing director a little bit. Do what you can to set your subjects at ease! Set your camera up somewhere in front of you so your subjects are framed  and then just have them talk to you instead of right at the camera to keep it natural. Also remind them that if they would like a few tries that's okay too, this recording isn't on live TV or anything.
Try to give a little lead time at the beginning and the end of the video. This isn't crazy necessary but I prefer to add nice fades at the beginning and end of a video and a nice pause at the beginning & end give the lead time needed for those effects!
Post Production (After filming)
Whozadoinit? After your filming is complete will you be editing it yourself or offloading this part to a pro? I offer editing only services to my clients who are comfortable filming on their own where I just clean up the narrative, audio & color then add their branding & music in my own professional software so that they don't have to mess with all of that. They just send me their short videos via Dropbox and I'll edit & post them wherever they need it!
Set up your branding elements.Whether you edit your own videos or not I highly recommend having some of your branding information contained IN the video whether its a watermark-type logo throughout, a tile at the beginning or end with your website or contact information or a full custom animation. If you are editing for yourself I highly recommend the tool Canva or Pixlr for generating simple graphics like an ending tile to use in your video!
Select your music. Music isn't even necessary though it can easily elevate a simple video. But it can also be a bit of a quagmire to figure out how to do it LEGALLY since as a professional you can't just put any song you like into your videos. You have to either purchase rights to use a specific song (if it's even possible), pay for a stock song from a site like PremiumBeat or try your luck with free resources like YouTube. The thing with recurring concept videos like testimonial videos  though is if you find a stock song you really like there's nothing wrong with just using it on every single one!
Here's an example of how this all comes together. This video was shot by Red Key Realty Leaders Agent Penny Davis on her iPhone and I edited it for her:
This is a video I shot & edited for Agent Mary Nigh:
And this one for Agent Spencer Talbott that took more planning for the production but we loved adding a bit more of a story leading up to the testimonial:
So what do you think, are you ready to get started? Are there any questions you may have? By all means, please leave a comment & ask away!
For those about to [REC.], we salute you!